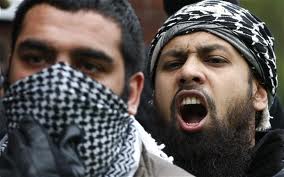 "The punishment of those who wage war against Allah and His Messenger, and strive with might and main for mischief through the land is: execution, or crucifixion, or the cutting off of hands and feet from opposite sides, or exile from the land: that is their disgrace in this world, and a heavy punishment is theirs in the Hereafter." -- Qur'an 5:33

It looks as if these brothers' apparent support for the Christian Gbagbo over the Muslim Ouattara constituted "waging war against Allah and His Messenger."

"Brothers crucified by Ouattara forces in Ivory Coast," from Barnabas Aid, June 8 (thanks to Marty):

Two peasant brothers were brutally crucified on "the example of Christ" as forces loyal to Ivory Coast President Alassane Ouattara continue to target perceived supporters of his ousted Christian predecessor, Laurent Gbagbo.

Raphael Aka Kouame died of his injuries; incredibly his younger brother, Kouassi Privat Kacou, survived the ordeal. The pair were badly beaten and tortured before being crudely nailed to cross-shaped planks by their hands and feet with steel spikes on 29 May.

The brothers were falsely accused of hiding weapons in their home village of Binkro, which has been targeted by Ouattara supporters as the birthplace of a key enemy. They are looking for Prefect Koko Djei, President of the General Council of Oumé and an official in Gbagbo's Ivorian Popular Front party, who is accused of distributing weapons to young Oumé men. The brothers repeatedly denied any involvement in a weapons cache, but their pleas were ignored.

After crucifying the brothers, Ouattara's men took them on an extensive search of Binkro, but they found only a store of medical equipment and supplies, which they looted. The seriously wounded pair were then taken to prison in Oumé, where Raphael died in the night....